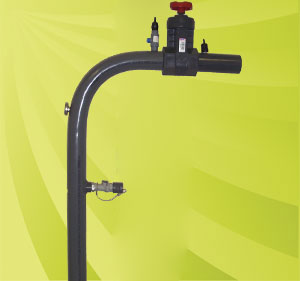 Overview
Historically, consistent and repeatable data acquisition is problematic during well field monitoring. One REP solution for this problem is the new Quick Disconnect Landfill Gas Wellhead, Series 3000.
Description
The Quick Disconnect Landfill Gas Wellhead includes a multi-turn gate valve for smooth flow adjustment. Unique to the Series 3000 is the snap-in-place quick disconnect monitoring device for sites that employ a thermal anemometer for velocity monitoring, reducing the chance for liquid blockage. The removable monitoring device allows for easy inspection to ensure repairs are done before incorrect data is given. Available long sweep design provides lowest overall pressure drop, which benefits LFGTE operators.
Specifications
Available in 2", 3" and 4" sizes.
Monitoring Options
Quick Disconnect Access Port
Valve Configurations
Gate valves to include PVC/PP, HDPE, SS
Wellhead Orientation
Vertical (long sweep or segmented 90 degree bend) or Horizontal
Materials
ASTM D-1785 PVC, ASTM D-1248 HDPE, 304/316 Stainless Steel, UV resistant flex and power clamps, flexible PVC boots, SS temperature probes
Welding
Hot air, extrusion, butt fusion, MIG and TIG
Summary
Custom sizes, materials and configurations are available. Contact REP today for pricing and lead time.