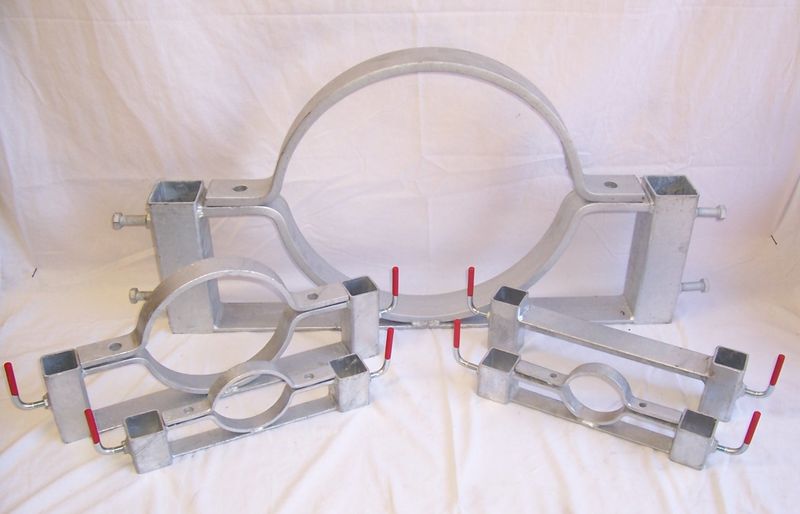 Overview
Historically, adjusting grade in above grade landfill gas lateral and collection header pipelines has been less than satisfactory using a combination screed pins, rebar with caps, wood, or sandbags. REP has found the solution to the incremental adjustments and difficulty of installation in current designs by the introduction of the Infa-Just Pipe Support, Series 6000 system that allows for easy installation and is infinitely adjustable. This system allows for precise grade alignments on piping systems using pipe support posts. It is an excellent solution for dual-extraction well piping which requires air and force main service to wells in addition to collection lateral piping – all three pipes can be contained in the same Infa-Just Support.
Description
The Infa-Just Pipe Support, Series 6000 has an all-galvanized steel construction making it durable for landfill applications. The two-post system allows installation of support system after pipelines are run and alignment is established. This feature allows for increased speed of pipe installation as all work can be accomplished on grade. When the pipe runs are completed it is only a matter of setting the elevation at each support and tightening the clamp system. The Infa-Just system can be readjusted as landfill settlement occurs without the use of tools. The Infa-Just Pipe Support, Series 6000 is the simplest and safest solution to grade adjustments for gas collection headers and laterals.
Specifications
Materials
Galvanized finish is standard on steel parts
Painting can be used in lieu of galvanizing
Welding
All joints are seal welded using MIG welding
Summary
Custom sizes, materials and configurations are available. Contact REP today for pricing and lead time.