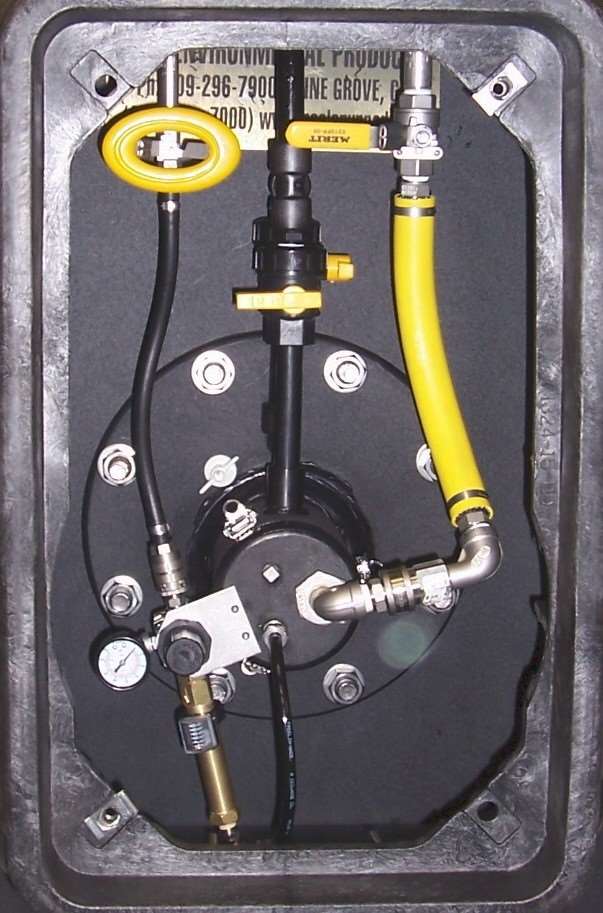 Overview
Many sump systems have been utilized in landfill service over the years, and most work satisfactorily. Real Environmental Products set out to design a new system that will challenge the leaders in terms of simplicity, cost and reliability. The REP solution for this effort is the Auto Sump, Series 7000. Simple, cost effective, and reliable.
Description
The standard Auto Sump, Series 7000 is a pneumatic device with a submerged pumping system designed to pump, therefore eliminating the problem of suction head loss. Also available with an electric pump(s) with Class 1, Division 2 compliant conduit and sealoffs. The Auto Sump, Series 7000 has pre-filtering designed to protect the pump from foreign objects. It can be configured as a single wall system or double wall secondary containment as required. The Series 7000 utilizes the unique REP isolation well design that allows the pumping system to be serviced while the gas system is being operated, which translates into less reporting and more revenue for LFGTE operators. Special features include REP standard quick release caps and standard quick disconnect hoses.
Webinar on Demand
REP has an educational webinar that covers the Auto Sump. Watch "Auto Sump"
Specifications
Pipe Materials
Standard ASTM D-1248 HDPE
Pump Type
Pneumatic or electric (Class 1 Div 2 Compliant)
Pump Specification
Head pressures to 180 feet+ depending on model
Welding accomplished by hot air, extrusion and butt fusion processes.
Summary
Custom sizes, materials and configurations are available. Contact REP today for pricing and lead time.